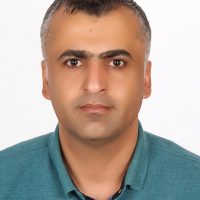 Dr Azad Saeed
Assistant Professor & Pathologist, MSc in Pathology University of Sulaimani Sulaymaniyah, KRG, Iraq
Bachelor in Veterinary Medicine and Surgery, Sulaimani University/KRG/ Iraq
MSc in pathology, Sulaimani University/Sulaimani University/KRG/ Iraq
Scientific degree: Assistant Professor
Cellphone: 07702203639
Birthdate: 15.08.1982
As part time, I am teaching 
the General Pathology Lab for the third year students at Komar University of Science & Technology.
EDUCATION
[Bachelor's degree]
2000 – 2006
Bachelor's degree in Veterinary Medicine and Surgery (B.VM&S)
with the standard good, my average grade for five academic year
is [71.3] and stood the 2nd out of twenty-five graduates, for first trial.
College of Veterinary Medicine-Sulaimani University
[MSc in Pathology]
2009 – 2011
MSc in Pathology with grade good [78.72]
Anatomy and Histopathology Department, College of Veterinary
Medicine Sulaimani University
MSc thesis title: EGFR protein expression after UVB radiation of
mouse skin utilizing IHC technique, evaluation of total antioxidant
status and assessing affectivity of antioxidants on EGFR expression.
PUBLICATIONS:
a) Book chapter:
Nanotechnology in Relevance to Dermatology: A Perspective Review in the book, Advances in Nanotechnology. Volume
21. Nova Science Publishers, Inc.b) Articles:
1. Saeed AK, Salmo N. Epidermal growth factor receptor expression in mice skin upon ultraviolet B exposure-Seborrheic
Keratosis as a coincidental and unique finding. Advanced biomedical research 2012; 1.
2. Salmo NMA, SMA Hassan SMA, Saeed AK. Histopathological study of chronic livers Fascioliasis of cattle in Sulaimani abattoir.
AL-Qadisiya Journal of Vet. Med. Sci 2014; 13(2): 2014.
3. Salmo NAM, Saeed AK, Hassan SMA, Khudeir HH. Mast cells and apoptotic bodies in Seborrheic keratosis: A comparative
study between UVB induced seborrheic keratosis in mice and sporadic cases in humans. Journal of Sulaimani Medical
College 2014; 4(2): 115-124.
4. Mehdi AH, Saeed AK, Hassan SMA, Salmo NAM, Maruf NA. Histopathologic changes in rat organs upon chronic exposure to
Formaldehyde vapor. Basrah Journal of Veterinary Research 2014; 1(2):127-140.
5. Hassan SMA, Saeed AK, Mehdi AH. Histopathologic effect of Xylene and Ultraviolet Type B exposure on mouse skin.
Int.J.Curr.Microbiol.App.Sci 2015; 4(5): 997-1004.
6. Hassan SMA, Saeed AK, Hussein AJ. Histopathologic changes of the effect of ethanol on liver and kidney of Albino mice
Mus musculus. Journal of Natural Sciences Research 2015; 5 (10), 12-20.
7. Hassan SMA, Hussein AJ, Saeed AK. Role of Green Tea in Reducing Epidermal Thickness upon Ultraviolet Light-B Injury in
BALB/c Mice. Advances in Biology 2015.
8. Mehdi AH, Hassan SMA, Saeed AK, Mohammed IY. Pathological lesions in different organs after chronic Xylene and UVB
exposure in mice. Assiut Veterinary Medical Journal 2016; 62(150), 1-9.
9. Saeed AK, Hassan SMA, Maruf NA. Ultraviolet Type B-Radiation-Induced Hyperplasia and Seborrheic Keratosis is Reduced by
Application of Commercial Sunscreens. Pakistan Veterinary Journal 2016; 36 (4), 450-454.
10. Abbas BT, Hassan SMA, Saeed AK, Amin DM. Vulvar and vaginal tumors in Hawshar dogs. Iraqi Journal of Veterinary
Sciences 2018; 32 (1): 67-72
11. Saeed AK. Photo-protective measurements of almond oil on UVB-irradiated mouse's skin and Cyclin D1 expression. Jordan
Journal of Basic Sciences 2019; 12(4): December.